Need for world-record speed
Skandia couple head to Utah desert in wife's quest for records

SKANDIA - Jon and Nancy Wennerberg run in some fast company, but only on the salt flats of the Utah desert for a couple weeks each August.
This Skandia couple is already on their way nearly 2,000 miles west for the annual SpeedWeek held on the Bonneville Salt Flats near the Nevada state line, famous as the site of numerous world land-speed records having been set there for decades.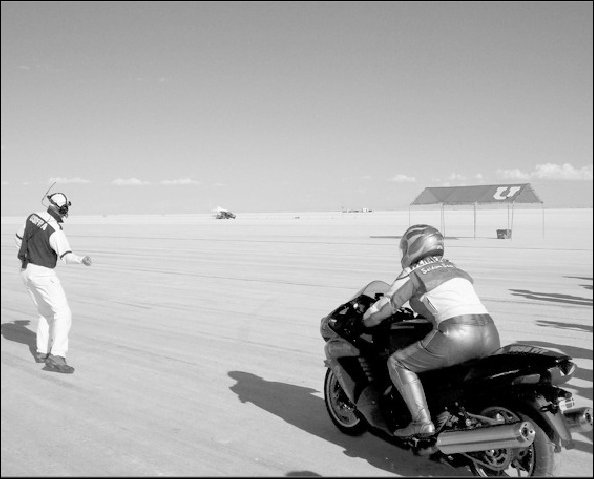 Wife Nancy Wennerberg, a relative newcomer to the sport at age 51, will attempt to set a world record for the fastest speed clocked for a stock motorcycle of the two sizes she will ride while there.
These are not records set specifically for men or for women or for a particular age group.
These would be the fastest anyone has been clocked on stock motorcycle - one that has had only very restricted changes from the way its normally sold to the public.
Her larger bike, a 2008 Kawasaki ZX14, is in the 1,352 to 1,530 cubic-centimeter class.
She previously set a record with it, going 201.913 mph, the average of two runs on the salt flats measured over consecutive days.
"We're hoping we get to 205 mph this year," said Jon Wennerberg, 63, who proudly displays the "200 mph club" hat he's gotten in the past for setting records over that speed.
To put it into perspective, 200 mph means covering a mile in 18 seconds, or the length of a football field in one second.
The other motorcycle, with much less power, has gone as fast as about 115 mph.
With safety inspections scheduled to take place on Thursday and Friday, attempts at making records go on from Saturday through Friday, Aug. 19, at a specially selected portion of the salt flats that cover hundreds of square miles in desert.
"I suspect the temperatures will be around 95 degrees with around 15 or 20 percent humidity," Jon Wennerberg said.
During the first few days, prospective record breakers may have to wait five or six hours between runs because of the usual 500 to 550 people attempting to make runs.
"Probably about two-thirds of the vehicles are cars and remaining one-third motorcycles," she said, with both Jon and Nancy adding with a laugh that some people really stretch the definitions of those vehicles.
"But as you get toward the end of the week, the waiting time becomes a lot shorter," Jon Wennerberg said. "Some people have already set their records, or they've blown out their vehicles and are done."
He figures Nancy could get in 35 to 40 attempts if needed during the week.
The couple has been profiled in shorts segments on several cable TV shows about motorcycle racing speed records and the Bonneville flats.
"We went out to watch them in 2000 for the first time, and Jon tried racing in 2001," Nancy Wennerberg said. "I wasn't too sure about it at first, and for awhile, my excuse was that my legs were too short to reach the ground on a (stock) bike.
"Then Jon had me try sitting on one, and I could just reach. So I didn't have excuse anymore."
And she gave it a try as a test.
"It didn't seem so hard," she said about approaching or breaking 100 mph.
And the rest has become family racing history.
Since many of the attendees to SpeedWeek return year after year, a camaraderie, a sort of family atmosphere, has built up among racers.
The Wennerbergs host a big picnic every year, one recently serving the Upper Peninsula specialty of pasties to around 400 people.
This year they've planned fried chicken as the main dish of their picnic.
"It was a lot of work to keep the pasties frozen until we were ready for them," Jon Wennerberg said.
They also took over a website dedicated to SpeedWeek, www.landracing.com, which joins their own Seldom Seen Slim Racing website, www.nancyandjon.org.
And the couple owns their own business in Harvey, Kudos Laser Engraving.
Strangely enough, while they have their own motorcycles for around town and road trips, they're not overly avid cyclists.
"It's completely different riding around town than it is attempting speed records," Nancy Wennerberg said.
By Steve Brownlee, Journal Sports Writer (sbrownlee@miningjournal.net)